Abraham Lincoln in the News
In the News in 1999
and 2003
Newspaper Article in USA
---
May 6, 2003
Abraham Lincoln's Colored Photographs on Exhibit in Japan

Abraham Lincoln was in the Army and in Japan from October 1953 through April 1956. He was stationed on the northern island of Hokkaido near Sapporo, Japan and on the middle island of Honshu near Sendai, Japan.

He began taking photographs with a Japanese camera whose body was made from salvaged beer cans – the label was visible around edges that were not sprayed with black paint and could be seen each time new film was installed. He bought two other cameras – a Cannon and a Nikon. The latter cameras were used to take hundreds of photos of Japan at a time when the nation was beginning a long period of reconstruction.

Around the time he moved to Brookville in 1962, he had seven photo albums filled with pictures and 5 carrousels filled with color slides and a cardboard box with hundreds of black and white photos.

"I knew I wasn't going to live forever and I thought my photos of Japan should be of interest to Japanese, so I wrote to the Mayor of the city and to a large museum there and asked if they would accept them." He said.

He got Email from the museum director saying he would be thrilled to get them and the mayor said he would gladly accept them on behalf of the citizens of Sendai. So Abraham finally realized his photos would not end up at a garage sale but would become an important part of the history of a city that he photographed many years ago.

Abraham found about a thousand photos and scanned them at high resolution and burned them on CDs. He made CD labels and mailed CD sets to the Mayor. The mayor accepted them and gave them to the museum. The museum promptly mounted an exhibition consisting of 50 of the color photos (color photos were beyond the means of most Japanese citizens at that time so they have never seen what their city was like in color in those years).

The exhibit began on April 25, 2003 and runs through May 11, 2003. The exhibit has been in the news in Japan and the museum has been pleased with the response it is getting to the exhibit.

Abraham also, years earlier, used many all of his photographs to build a Internet Web Site. He gets Email from Japanese all over the world who see the pictures and want to thank him for showing them on the Internet.

Many American soldiers were stationed at Camp Sendai or Camp Schimmelpfennig and they write and thank him for his efforts. Some of their children write and tell him they finally got to see where their father was stationed.

Many can recall those days when there were no traffic lights in the city and a lone policeman stood on a box to direct traffic at some intersections. They also recall the city was dusty and some bridges were still out from bombing, and no building was over 4 stories tall. Many streets were not paved and sidewalks were scattered here and there. Almost everyone walked or rode bicycles and children played in the streets and dogs slept there. It was rare to see a Japanese automobile anywhere.

Times have changed, of course, because the city is now one million strong and has many skyscrapers and it has become known as the City of Trees. Children would not dare play in the streets and dogs never sleep there. Thousands of Japanese automobiles race about the city like they do in America.

"When I was there the Japanese were just planting those Zelkova Trees and they were not an inch in diameter. Now there is a controversy about the cost of maintaining so many large trees and the people do not want them removed," he said, "It is hard to believe but those trees were a couple of years old when I took their picture and now they are over fifty years old.

"There are thousands of traffic lights these days and hundreds of thousands of automobiles and the people still walk a lot more than we do. When I was in Sendai I could walk from the train station to the Hiroshi River Bridge and see all the way down the street. Now you cannot see beyond the next block."

Toshiyuki Tanno was born in 1954 near Camp Sendai and grew up to be an architect and worked for the city of Sendai as an building architect inspector. He remembered the old Camp Sendai buildings from his school days.

One day he got on the Internet and typed in "Sendai" and up came Abraham Lincoln's site. "I was stunned to see so many things I never saw in a city I call home." Tanno later wrote to Abraham.

He was so taken by what he saw that he set out to track down every spot where Abraham once stood to take the picture he took and then he snapped a picture and sent it to Abraham so he could see how much changed.

That started a friendship that lasts to this day. Toshiyuki Tanno was the first person who was impressed and then Saburo Aida (editor and publisher of the large Japanese newspaper, Kahoku Shimpo), saw the site and wrote 4 newspaper stories about it and then the site appeared on Miyagi Prefecture television. Toshiyuki Tanno, Haruhiko Yamato and other Japanese businessmen formed a Lincoln Fan Club and the club members were among the first to view his Exhibition.

A fan club member, Mr. Endo and others went there in April and recorded some of the scenes at the museum. If you go to http://www.cyberscape.gr.jp/A-html/top-B05.html You will see a page the fan club created. If you click on one of the globes you should be able to see a 360 degree view of whatever is there. You may need to go to www.apple.com and download the Apple Quick Time viewer to see them but it is worth the effort.

You can see his original Japanese photographs site at http://pearl.age.jp/whizlinc/ and you can type in http://www.sendai-shi.com to see his second site featuring the city as he recorded it fifty years ago.
Newspaper Articles in Japan in 1999
---
Sendai, Japan
This is the city that had no traffic lights, and no stop signs when I was there. The trees were just being planted along the streets and were about the size of bamboo fishing poles. I could actually walk from our camp gate to the train station without seeing an automobile. Its all changed now. I was stationed in Japan from November 1953 until April 1956. All but 5 months of this time was spent in Sendai, Japan.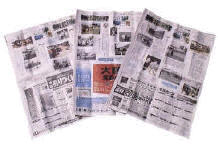 Kahoku Shimpo
Newspaper that wrote five or six stories about Abraham Lincoln and his web site.
http://www.kahoku.co.jp/spe/spe056/index.htm

Sendai City Museum of History and Folklore
The city museum received all of Lincoln's photographs on two CD's. The mayor accepted them on behalf of the city and sent Mr. Lincoln a letter of thanks. The museum had an exhibition of 50 color photos from 50 years ago - from April 25 to May 11, 2003. The director said it was a popular exhibition and a lot of people attended. You can go to the museum and ask to see some of his pictures. See the Mayor's Press Release: http://www.city.sendai.jp/soumu/kouhou/press/03-04-08/kizou-e.html (English) and in Japanese (link at bottom of same page).
MIYAGI Television Broadcasting Company, LTD., 2000
Abraham Lincolns web site was also featured on a segment of "Good Afternoon" a highly popular afternoon television program in Sendai, Japan. If you go there, note the word "OH" on the left side. That is the name of the show. Click it.
http://www.mmt-tv.co.jp/
Sendai City Tanabata Festival in 1999
This annual event also sponsored Abraham Lincoln's site and tried to find several people shown on his web site. Millions attended and countless individuals looked at his site trying to identify the people portrayed there.